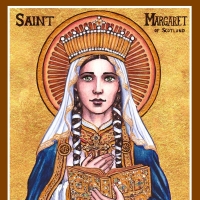 What are the Stations of the Cross?
by St. Maggie | April 10, 2017
Dear Maggie,

What are the Stations of the Cross?

Thanks,
Pondering Pilgrim
Dear Pondering,
We all love a journey—they can be hard n' they can be joyous, but we usually leave having felt and learned more than when we first departed for the trip. From the earliest days of the Christian faith people have wanted to remember Christ's journey to the cross, the pilgrimage that led to our salvation. Many Christians traveled to Jerusalem to follow the path that became known as the Via Dolorosa, the "Way of Grief," which is what tradition holds was the path Jesus took to the cross. As pilgrims came there they began to imagine where certain events in the Gospels took place such as where Jesus was condemned and where Simon picked up the cross. By the 15
th
Century these became codified in 14 "Stations of the Cross," nine of which are on the actual road and five of which are inside the Church of the Holy Sepulcher.
Of course not everyone can pick up and go to Jerusalem, so the Franciscans set up shrines around Europe to imitate the places in the holy land. Many of these shrines included various versions of the Stations of the Cross (ranging from 7 to 30 stations). By the 17
th
Century Franciscan churches mostly contained the 14 stations found on the Via Dolorosa.
The form followed by the Episcopal Church follows that tradition and includes the following stations:
1) Jesus is condemned to death; 2) Jesus takes up his cross; 3) Jesus falls the first time; 4) Jesus meets his afflicted mother; 5) the cross is laid on Simon of Cyrene; 6) a woman wipes the face of Jesus; 7) Jesus falls a second time; 8) Jesus meets the women of Jerusalem; 9) Jesus falls a third time; 10) Jesus is stripped of his garments; 11) Jesus is nailed to the cross; 12) Jesus dies on the cross; 13) the body of Jesus is placed in the arms of his mother; 14) Jesus is laid in the tomb.
Whether they are spread over a long distance or they simply follow a path around a church's walls, the Stations of the Cross are a way that we can participate in a pilgrimage of faith without having to leave our day job or travel across the world.
Good Friday is now the most common time for the Stations of the Cross to be used, but they are an appropriate form of meditation anytime we want to remember the journey Jesus took to complete his life of sacrifice.
I do hope that you'll join on this pilgrimage as we move through this most holy of weeks.
Peace be with ya,
Maggie