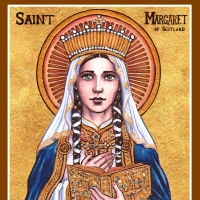 What are the Five Marks of Mission?
by St. Maggie | March 8, 2017
Dear Maggie,

What are the Five Marks of Mission?

Thanks,
Markedly Mulling
Dear Markedly Mulling,
Me, me, what a wonderful question and a wondrous subject. Before I get into the Five Marks themselves, let me start by sayin a word about mission. When Christians talk about mission a whole host of images come up, many of them with a bit of baggage, as ya say. There twas a time in the Christian past when conquerors came with priests, subjecting with the sword and converting with violence. In more recent times Christian mission has often been accompanied by an attempt to spread the economics of America instead of God's good gifts.
Thankfully, these negative images of mission are distortions of a more glorious truth—God is a missionary God and the church is a part of God's mission. The whole scope of cosmic history is marked by God making room in the community of the Trinity to welcome others into the holy family of God. Early on though, God's children rebelled and rejected the community and life God offered. Ever since then God has been on a mission to reconcile the cosmos back into the community of God's love. God created the people of Israel through this mission, calling Abraham to father a nation. Moses and the prophets were all a part of God's mission. God sent his only Son in order to continue that mission, fulfilling its decisive step. Now the Church guided by the Holy Spirit is a part of God's mission to reconcile the world.
The Five Marks of Mission is one statement that helps us recognize where and when we are participating in God's mission. There are some folks who think that God's mission is all about individual lives being brought into the church. There are other folks who believe that God's mission is about transforming society and healing the creation. The Five Marks of Mission were developed between 1984 and 1990 through the Anglican Consultative Council, a group of theologians and pastors from around the world wide Anglican Communion. It is a short document that answers both groups saying, yes! God is reconciling individuals through the church and the whole cosmos through justice and transformation. This means that individual lives and the life of society and the creation itself are both included in God's mission.
Over years of discussion, prayer, and discernment the council came up with these Five Marks of Mission:
To proclaim the Good News of the Kingdom
To teach, baptize and nurture new believers
To respond to human need by loving service
To seek to transform unjust structures of society, to challenge violence of every kind and to pursue peace and reconciliation
To strive to safeguard the integrity of creation and sustain and renew the life of the earth
The marks are meant to guide us and help us to recognize God's work in the world. Is there a faithful effort to change an unjust structure? God's mission is being enacted. Is there a faithful effort to disciple new believers into the way of Jesus? God's mission is being worked out in the world. The Church's job is to join in God's mission and answer God's call to live into this work of reconciliation God has been working throughout history.
I hope that answers yer question, Mulling. God's mission is a grand thing and we're all privileged that we can take part in it.
Peace be with ya,
Maggie.