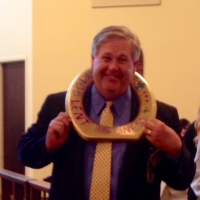 Golden Halo Awarded
By Michaelene Miller | April 29, 2015
Some congregation members may say that this past Lent got a little mad…and it did! They would be referring to the new, annual practice of participating in the national Lenten discipline of Lent Madness! As a fundraiser for the Gateway to Service Mission Trip, the youth of St. Margaret's asked congregation members to "buy into" their bracket pool.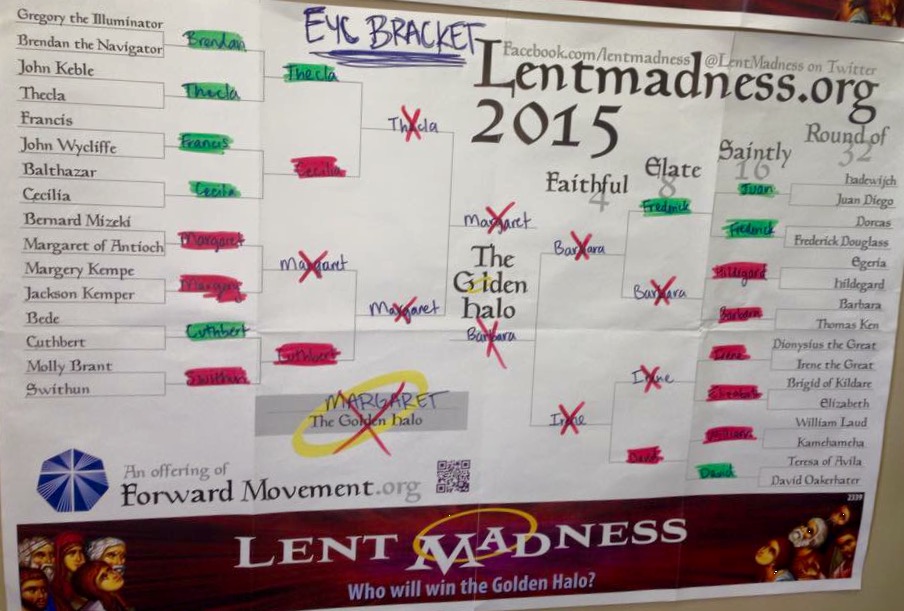 To give a little background information, Lent Madness was started in 2010 by the Rev. Tim Schenck. He sought to create an engaging way for people to learn about the men and women comprising the Church's Calendar of Saints. The format is a spin-off of the basketball lover's March Madness bracket: 32 saints are placed into a tournament-like single elimination bracket. Following a schedule that starts after Ash Wednesday and ends the Wednesday of Holy Week, each paring remains open for a set period of time and people, all across the nation, go to www.lentmadness.org to vote for their favorite saint. 16 saints make it to the Round of the Saintly Sixteen; eight advance to the Round of the Elate Eight; four make it to the Faithful Four; two to the Championship; and the winner is awarded the coveted Golden Halo. Lent Madness encourages everyone to get to know some amazing people who came before us in the faith and reminds us that there's no reason for a dreary Lenten discipline.

The Episcopal Youth Community of St. Margaret's enjoyed this opportunity to engage with the saints of the past, compete in the Madness, and introduce this discipline to our church. Around 20 individuals and families participated in the Madness. Some brackets were blotched from the first round, but others went far into the competition! As for the EYC bracket, with Margaret for the win because, well, she exploded a dragon by making the sign of the cross from within its belly, it was a good first attempt. Full disclosure: the EYC bracket selection was based upon the "cool factor" of the martyr's death. Other techniques involved selecting a saint with the coolest name, "eeny meeny miny moe…," voting for the saint of your namesake, intense research, lackadaisical research, and many more.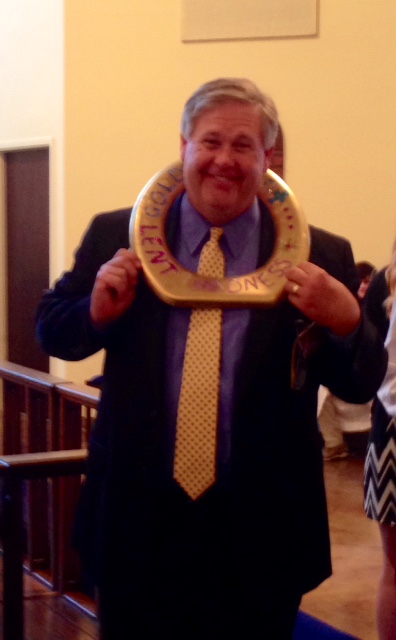 However, two individuals completed brackets that surpassed the rest. Correctly predicting a number of match-ups and St. Francis to win it all, Ronnie Beggs' and Kris Alexander's brackets secured them spots as the first and second place winners of the St. Margaret's Lent Madness Bracket Pool! The EYC was happy to announce Ronnie Beggs, in first place, as the inaugural recipient of St. Margaret's very own "Golden Halo" award on Easter Sunday. As the first-ever Lent Madness Champ, he proudly christened the award with his signature. The "Golden Halo" will reside in the youth room for all eternity, coming out every Easter to collect the mark of the next Lent Madness Champ. Do you have what it takes to predict the saintly winner of next year's Golden Halo? The EYC will invite you to join the Lent Madness and find out!


Read more about our Celebrations:
NEW Children's Ministry
Jack Holt Honored
Back