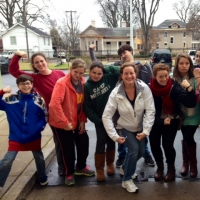 Celebrations of Gratitude
By Michaelene Miller | December 30, 2014
For the month of December, the St. Margaret's Episcopal Youth Community focused on the theme of Gratitude. We turned the large, chalk board wall in the youth room into a "Wall of Gratitude." On this canvas we brainstormed about our theme. We asked each other, "What is gratitude?" and "What are we grateful for?" On the wall, one can read our combined definition of gratitude as "happy for stuff,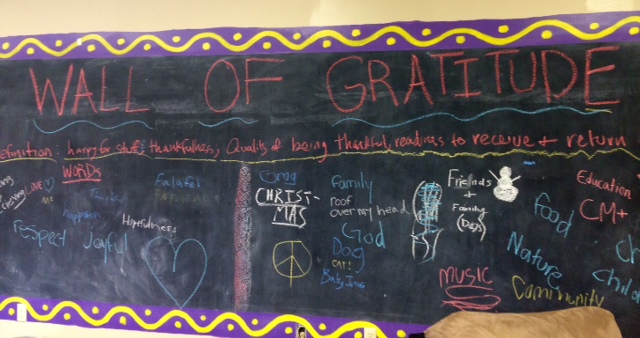 thankfulness, the quality of being thankful, and readiness to receive and return kindness." When asked to come up with synonyms the youth produced this list: "love, happiness, thankful, me, respect, joyful, hopefulness, giving and receiving." The youth quickly picked up on the relational aspect of gratitude and the intentional effort that gratitude calls us to express through an action of showing thankfulness. There seems to be a bubbling forth implied in gratitude that really caught our attention in the definition…gratitude does not only allow us to "receive" but it urges us to "return kindness." Gratitude calls us to give back as we receive, starting a chain reaction of kindness. Next to our gratitude synonyms, one can read those things that cause us to feel grateful: "family, God, Christmas, food, roof over my head, music, nature, church, education, EYC, razorbacks, love, Camp Mitchell, pets, friends, community…"

During the month of December the EYC experienced two great incidents of gratitude. First, upon delivering the donated toiletry and school supply drive items to the refugees at Hall High School, we received reports of the gratitude that the students readily received these precious gifts with. We were happy to hear this news and grateful for their expression of thankfulness. I could see the chain reaction of kindness being received and bubbling forth as the youth went home that night happily in fellowship with each other, their fellow students at Hall High, and God.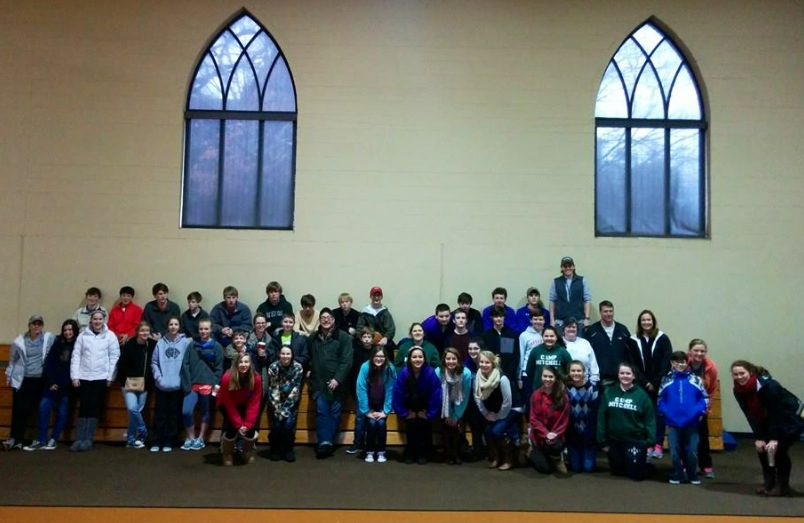 Next, St. Margaret's EYC had the opportunity to join other EYC groups from the Central Convocation to deliver St. Francis House Christmas Baskets to individuals living in project housing owned by the city of Little Rock on the morning of Tuesday, December 23. Two mornings before Christmas, during precious holiday break hours, early in the day, ten youth and adult leaders from St. Margaret's joined over 40 other youth and adult leaders from around central Arkansas at Trinity Cathedral to await delivery assignments. St. Margaret's youth joined forces with Christ Church youth to deliver over 100 Christmas baskets and gifts to individuals living at the Cumberland Tower Apartments. There was an excitement and a readiness to serve in the air as the St. Francis House delivery truck full of Christmas boxes pulled up. In the process of lifting boxes, sorting them into 12 floors, and loading the elevator there was not a single complaint noting the cold air or light drizzle of rain as we worked outside. I only observed a team of youth working together to share the warmth and light of Christmas with others. As the youth went door to door to deliver the Christmas baskets, they knocked and waited anxiously, not knowing what was on the other side. However, time and time again, the door opened to reveal the smiling face of a resident. Over and over we heard the words, "thank you" and "I am so grateful for this." With gratitude, the residents readily received their donation, returning kindness with impactful smiles which energized the youth to continue their work on another floor. A greater chain of kindness, gratitude, and the light of Christ grew between youth and resident with every basket delivered.

Read more about our Celebrations:
Prayers for Pakistan
Getting Stirred Up
Back